09/11/2021
The IRCI Researchers Forum was held online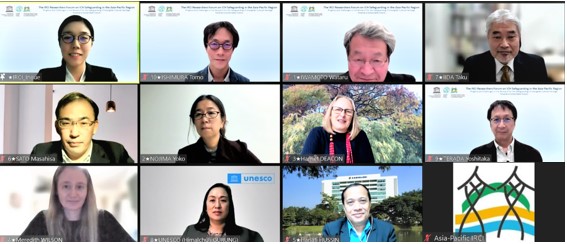 The IRCI Researchers Forum on ICH Safeguarding in the Asia-Pacific Region "Progress and Challenges in the Research for the Safeguarding of Intangible Cultural Heritage – Towards a Sustainable Future –" was held online (Zoom webinar) on 29 October 2021.
Ten experts from Japan and abroad presented from various perspectives on the research for safeguarding ICH, followed by active discussions on recent trends and future challenges in the ICH research.
The Forum began with the address by Mr TOKURA Shunichi, Commissioner for Cultural Affairs, and the congratulatory remarks by Mr NAGAFUJI Hideki, Mayor of Sakai city and Mr MATSUURA Koïchiro, Honorary Advisor of IRCI for the IRCI's 10th anniversary.
In Session 1, presenters reviewed the last ten years of research on ICH from various perspectives, in part referring to IRCI's projects in the past. In Session 2, recent trends and challenges in ICH research were discussed, including the perspective of UNESCO.
In the panel discussion attended by the presenters and facilitators, the future directions of ICH safeguarding and the topics such as how research should be conducted were discussed from various perspectives: for example, how to feedback research outcomes to communities and the practice of ICH safeguarding on the ground; challenges associated with the sustainable development and the commercialization of ICH; and adaptation of ICH to the ongoing global changes such as climate change and the COVID-19 pandemic.
The Forum attracted the online participation of 95 researchers and ICH-related individuals from 21 countries within the Asia-Pacific region and beyond, including Japan, Myanmar, Nepal, Republic of Korea, China, Indonesia, the Philippines, and Kyrgyzstan. The proceedings of the Forum will be published in March 2022.