16/12/2021
ICH's contributions to SDGs: Workshop in Indonesia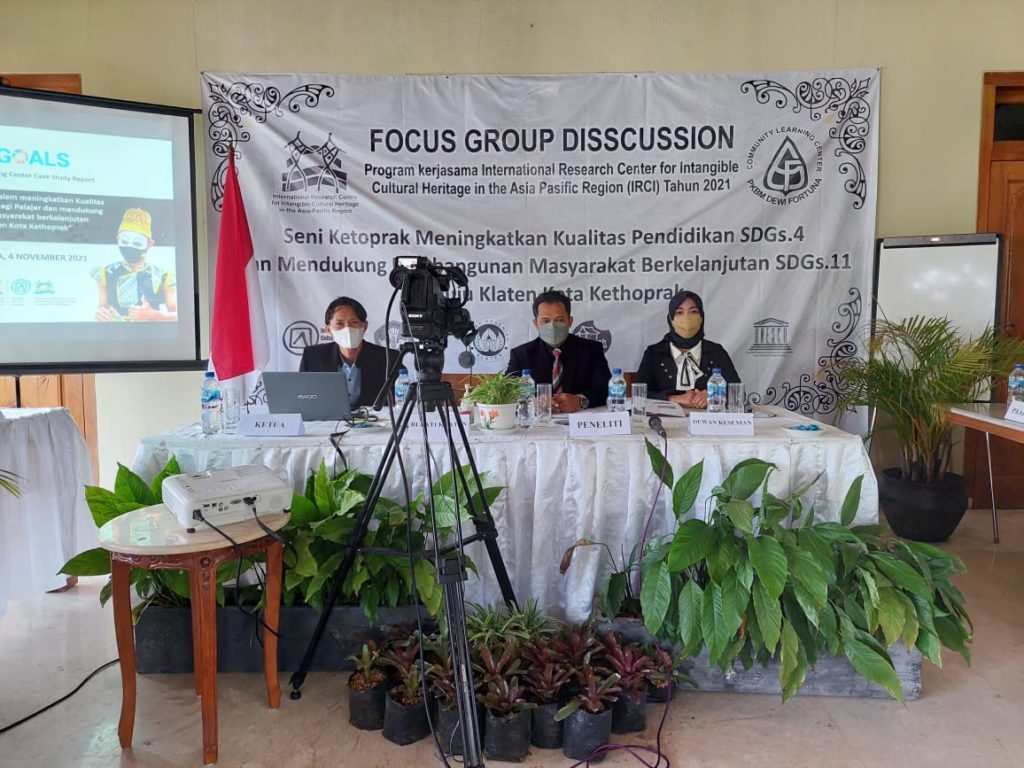 On 4 November 2021, IRCI held a workshop "The role of Kethoprak art in improving the quality of character education for students and supporting sustainable community development in Klaten" in Klaten, Indonesia, in cooperation with Dewi Fortuna Community Learning Center (DFCLC). IRCI participated in this event online. This workshop was part of IRCI's project "ICH's contributions to SDGs – Education and Community Development,"*1 which investigates relationships among ICH, SDG 4 (Quality education), and SDG 11 (Sustainable cities and communities) and the roles of ICH in education and community development.
During the workshop, the participants, including the principals of the target schools for the research, Kethoprak practitioners, teachers in formal and non-formal schools and community members, a journalist, and local government officials, expressed their candid opinions and advices.
In the discussion, concerns were expressed about the loss of the noble values of local cultural arts such as the traditional theatrical performance of Kethoprak due to the influences of globalisation. Participants hoped that this research by IRCI and DFCLC would stimulate the argument for policymakers to pay attention to the art of Kethoprak in strengthening the character education for the younger generations and to support establishing Klaten as the City of Kethoprak Arts through regulations. Educators, including school principals, teachers in both formal and non-formal education expressed their hope to integrate Kethoprak into the school curriculum or as extra-curricular activities, while emphasizing the importance of mastering local languages that are closely related to Kethoprak. They also agreed on the effectiveness of the adult learning approach using Kethoprak for the community empowerment. Reflecting such voices, the Education Office mentioned its plans to strengthen ICH education in elementary and middle schools in Klaten. The Culture and Tourism Office would coordinate with the Klaten region in developing a government policy. Kethoprak practitioners expressed their willingness to teach the values of Kethoprak art at schools. The Arts Council encouraged the communities to protect and promote local cultural arts, especially Kethoprak which is almost extinct, recognizing their educational, participatory and creative economic effects.
The results of the workshop will be shared and reflected in the International Symposium that will be held on 22 December in 2021.
*1: This project was implemented in the framework of the "Platform for Future Co-Creation of UNESCO activities" commissioned by the Ministry of Education, Culture, Sports, Science, and Technology (MEXT), Japan.
Related links:
1. A newspaper report in Klaten about the workshop
2. The summary of the above workshop recorded by DFCLC
3. Media Indonesia article on the Kethoprak performance during the focus group discussion conducted by DFCLC