16/12/2021
ICH's contributions to SDGs: Workshop in Bangladesh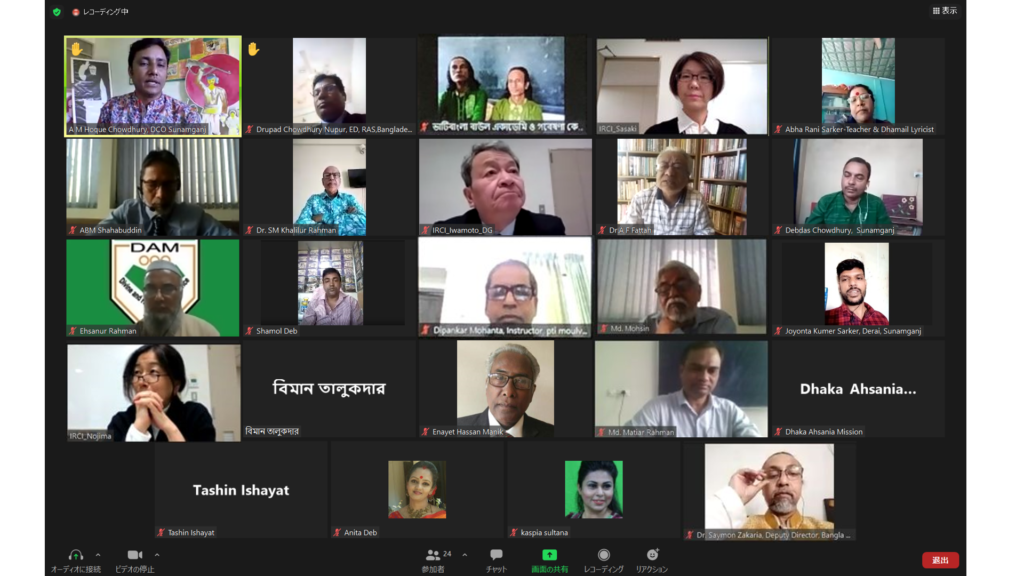 On 9 November 2021, IRCI held an online workshop "Stakeholders Workshop on Dhamail song of Sylhet region" was held in cooperation with Dhaka Ahsania Mission (DAM) in Bangladesh. The workshop was part of IRCI's project "ICH's contributions to SDGs – Education and Community Development"*1, which investigates the relationship among ICH, SDG 4 (Quality education), and SDG 11 (Sustainable cities and communities) and the roles of ICH in education and community development. During the workshop, participants, including experts on culture for sustainable development, ICH practitioners, researchers specialising in Dhamail, cultural activists, teachers, educators and development practitioners from the national level and the Sylhet region, exchanged opinions and thoughts.
Dhamail, a traditional folk dance-cum-song of the Sylhet region in Bangladesh since the 14th century, has been recognized as an important cultural heritage. Over years, it has been performed by local people as a mode of entertainment in the marriage ceremonies, social occasions, various religious festivals, birthdays, and so on. Due to a growing popularity and performances in various contexts, a diversity has been reported in the practice of Dhamail. The study by DAM presented in the workshop illustrated the differences in rural and urban settings in the format of dance, use of instruments, dresses, tunes and clapping. While a wider use of Dhamail in various contexts was appreciated, participating experts also raised a concern and urged to preserve the richness of Dhamail practices. In this regard, the ICH safeguarding initiative by IRCI and DAM was welcomed by the participants, and the needs of institutional supports were suggested for documentation, training, and promotional activities in educational and community development programmes.
The results of the workshop will be shared and reflected in the International Symposium to be held on 22 December 2021.
*1: This project was implemented in the framework of the "Platform for Future Co-Creation of UNESCO Activities" commissioned by the Ministry of Education, Culture, Sports, Science, and Technology (MEXT), Japan.