01/08/2017
A symposium on Cultural Heritage Held at Tokyo National Museum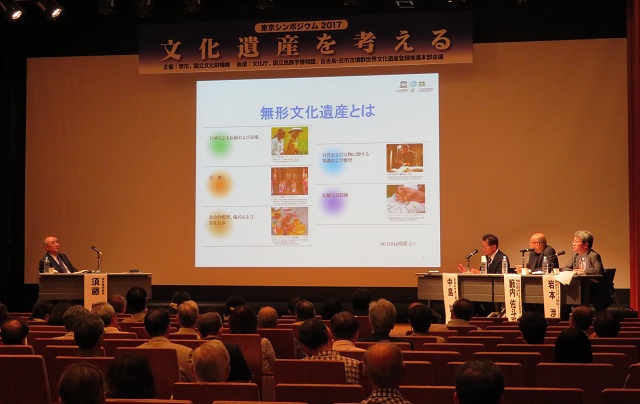 Presentation by Mr. IWAMOTO, Director General of IRCI
Sakai-city and National Institutes for Cultural Heritage hosted the Tokyo Symposium on Cultural Heritage at Tokyo National Museum on 3rd June, 2017.
Mr. Johei SASAKI, Director of Kyoto National Museum and Mr. Kenji YOSHIDA, Director General of National Museum of Ethnology made keynote speeches. The new perspective on the role could be played by museums in the world as facilitators to promote the succession of intangible cultural heritage was introduced in the speech.
Also, Mr. Wataru IWAMOTO, Director General of IRCI, Mr. Seiichi NAKAJIMA, Former Director of Nagahama City Museum and Mr. Satoshi YABUUCHI, Professor of Tokyo National University of Fine Arts and Music presented cases to safeguard the intangible cultural heritage, and Mr. Kenichi SUDO, Director General of Sakai City Museum proceeded with the panel discussion. It drew the attention from 183 attendees.
The symposium was closed with the performance of Gagaku.