07/02/2017
First International Photography Competition of Tehran Intangible Cultural Heritage Centre (Entry Deadline: 18 Feb 2017)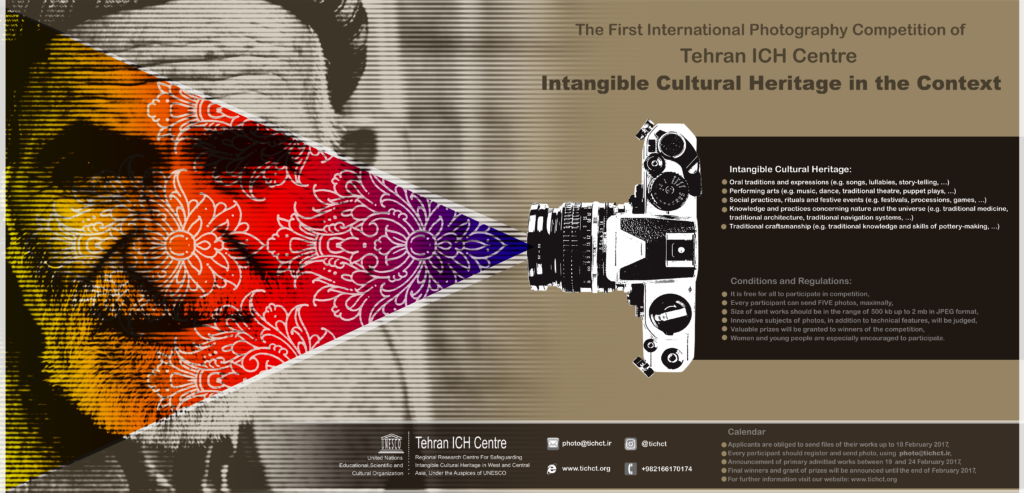 The Regional Research Centre for the Safeguarding of Intangible Cultural Heritage in West and Central Asia under the auspices of UNESCO (Tehran Intangible Cultural Heritage Centre), a UNESCO Category 2 Centre like IRCI, shall be organising its first international photography competition entitled "Intangible Cultural Heritage in the Context" in order to promote the concept of intangible cultural heritage (ICH) of West and Central Asia.
"Context" refers to the situation and surroundings in which, a local community exists, works, interacts with nature and, to sum up, "lives". Places such as villages, farms, traditional workshops, traditional places for trading, performing art or a special social custom are included as instances of context.
The Tehran ICH Centre invites all enthusiasts for photography, including professionals and amateurs, to participate in this event.
Please note the following information upon participation:
The submitted work must be from one of the 24 countries (in alphabetical order): Afghanistan, Armenia, Azerbaijan, Bahrain, Georgia, Iran, Iraq, Jordan, Kazakhstan, Kuwait, the Kyrgyz Republic, Lebanon, Oman, Pakistan, Palestine, Qatar, Saudi Arabia, Syria, Tajikistan, Turkey, Turkmenistan, the United Arabic Emirates, Uzbekistan, Yemen
Applicants are obliged to send files of their work by 18 February 2017.
Winners will be announced by the end of February 2017 and shall be awarded with valuable prizes.
For further information, please refer to the Tehran ICH Centre website and instructions.