07/10/2016
Fifth Governing Board Meeting of IRCI held in Osaka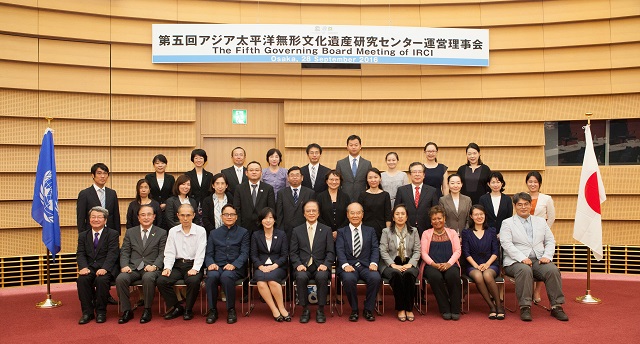 The Fifth Governing Board Meeting of IRCI was held on 28 September 2016 at the Osaka International Convention Center. In addition to the 10 members of the governing board, 17 observers from 7 organisations such as the Ministry of Foreign Affairs, Agency of Cultural Affairs and other UNESCO C2 centres of intangible cultural heritage in China (CRIHAP) and Republic of Korea (ICHCAP) joined the meeting.
The following key points were discussed and approved:
1. Reports of the activities and financial statement for FY 2015
2. Progress of activities and budget for FY 2016
3. Work plan and budget for FY 2017
The following day, a cultural excursion to the Yamamoto Noh Theater, where the UNESCO intangible cultural heritage "Noh" has been passed on through the ages, was conducted. The foreign participants were fascinated by the charm of "Noh" through cultural experiences including a short Noh performance of "Hagoromo", workshops of musical instruments, masks and garments, as well as lectures regarding the history and preservation of the art for over 600 years.