02/09/2013
International Symposium in Celebration of the 10th Anniversary of the Convention for the Safeguarding of the Intangible Cultural Heritage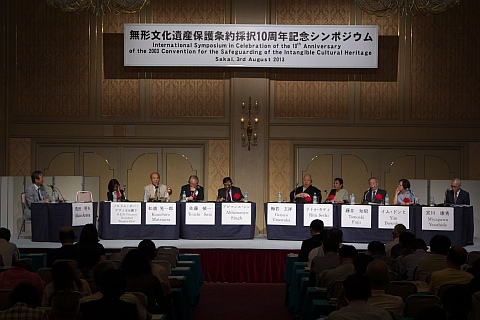 This symposium was co-organised by IRCI, Agency for Cultural Affairs of Japan and Sakai City in Sakai on 3rd August 2013 from 13:00 to 17:30. The first part of the symposium proceeded as follows:
Opening addresses by co-organisers and a guest from UNESCO
Mr Masanori Aoyagi, the Commissioner of Agency of Cultural Affairs of Japan
Mr Abhimanyu Singh, the Director of UNESCO Beijing Office
Mr Osami Takeyama, the Mayor of Sakai City

Keynote speeches
"The Future of the 2003 Convention and the Role of International Community"
by Mr Koichiro Matsuura, the former Director-General of UNESCO
"On the Transmission of ICH"
by Mr Gensho Umewaka, Noh actor, the 56th head of Umewaka Family

Panel discussion
"The Strength of ICH and the Mission of the 2003 Convention"
moderated by Mr Akio Arata, the Director-General of IRCI
Panellists: nine experts and holders of ICH
In the second part of the symposium, two performances inscribed into the Representative List of the Intangible Cultural Heritage of Humanity were shown on stage.
 About 300 participants attended the symposium.