28/01/2022
Regional Workshop on "Sustainable Research Data Collection for ICH Safeguarding in the Asia-Pacific Region" was held (21 January 2022, online)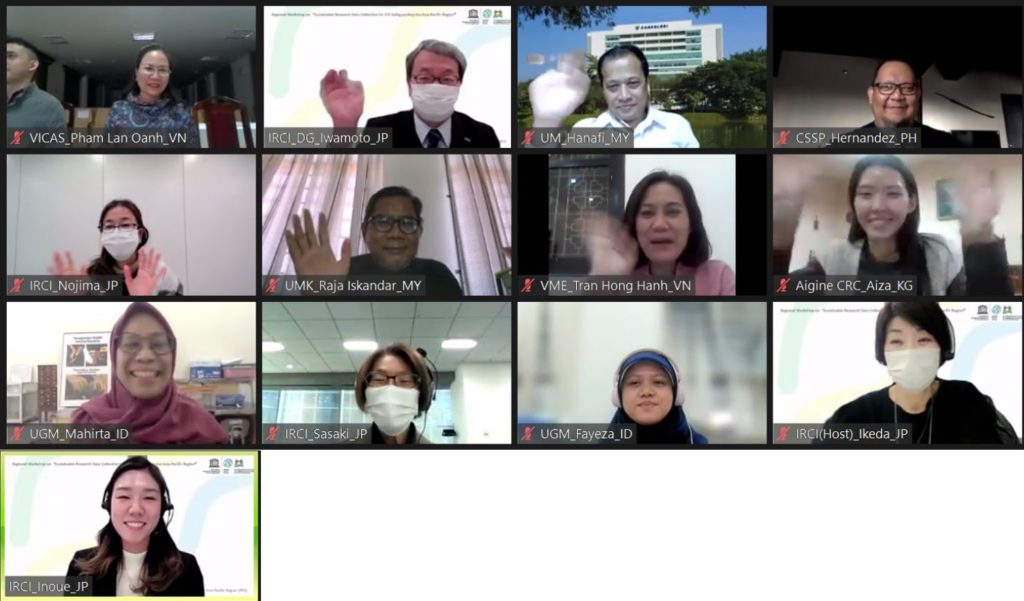 On 21 January 2022, a regional workshop was held on the project "Sustainable Research Data Collection for ICH Safeguarding in the Asia-Pacific Region."
IRCI has been collecting research information relating to ICH and its safeguarding since 2014, and making the data accessible on the IRCI Research Database, aiming to promote the research for ICH safeguarding. In order to develop a way to update this database effectively, IRCI launched the above-mentioned project in FY 2019, with a new data collection mechanism in cooperation with research institutions in Asia.
The purpose of the workshop was to summarize and review the experiences in data collection activities since 2019. At the workshop, 6 cooperating research institutions presented the summary and outcomes of the data collection in each country, namely, Gadjah Mada University in Indonesia, University of Malaya in Malaysia, Vietnam National Institute of Culture and Arts Studies (VICAS) in Viet Nam, University of the Philippines–Diliman in the Philippines, Srinakharinwirot University in Thailand, and Aigine Cultural Research Centre in the Kyrgyz Republic.
After presentations, participants discussed current challenges in the data collection and possible solutions, benefits of carrying out research data collection, utilization of IRCI Research Database, and suggestions and recommendations to be reflected in IRCI's research data collection activities in the following years. Through the workshop, IRCI as well as participants were able to grasp the research trend in the ICH field in each country, and the workshop served as an opportunity for information sharing among the countries mostly in South-East Asia.
The research information collected through the project will be added to the IRCI Research Database by the end of March and become openly accessible. The project report summarizing the three years of data collection activity will be also published in March 2022.